Choosing the Right Kitchen For Your Refurbishment

When it's time to fit a new kitchen, it's worth investing time in the planning stages. Getting everything right first time will prevent inconvenient alterations later, and it'll also make your kitchen so much more enjoyable from the moment the refurbishment's finished.

So how do you go about selecting the right look, layout and features for your new kitchen?
Changing Your Kitchen Layout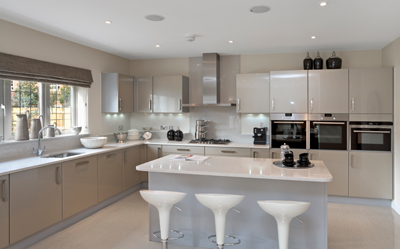 While you can't easily change the shape of your kitchen (without removing walls, at least), you can change the size and position of the units and appliances to make better use of the space.
Galley kitchens are the easiest to design, since all of the units follow straight lines along the walls. But if you have the space, consider using the centre of your kitchen for an island or a breakfast bar.
In very large properties, the open plan look can divide up the space neatly while giving you chance to socialise and cook at the same time.

Don't be afraid to experiment with layouts on paper. Depending on the position of your pipes and electrical sockets, you may be able to move appliances around to move convenient locations, and that can help you make better use of the space.
Selecting the Right Worktop
Kitchen work surfaces come in a vast range of materials, all with their own plus points and down sides.

A basic white laminate worktop looks clean and crisp, but white can show stains easily, so you might find yourself cleaning the worktop more than you'd like. Wood is the classic choice, although you need to balance the vulnerability of wood with the ease of repair. Being able to chop food directly on the worktop is handy, though, and you could sand out scratches every so often.
For the refined look, consider granite worktops. However, granite scratches easily and could chip on impact, so it's not suitable for every household.
Lighting the Space
Kitchen lighting should illuminate work areas effectively, and that means under-counter lighting is often a very good choice. You can also add uplighters over units to make the kitchen look more modern and save energy. Both are usually more effective than a single light in the centre of the ceiling.
Also, consider LED lights; they're cheap to run, rarely need to be replaced and emit pure white light that's great in a kitchen space.
Painting the Kitchen
When planning a refurbishment project in the kitchen, don't forget to consider redecoration. In the kitchen, we use special paints that contain oil or latex, making them water-resistant. You'll still have the choice of a full range of colours, from warm, muted beiges and off-whites through to strong greens, oranges and blues.
If a block of bright colour's not your thing, we can help you to plan a feature wall that draws the eye and makes the kitchen look larger.
Arranging Your Kitchen Refurbishment
Most kitchen refurbishment projects cost several thousand pounds, so you'll want yours to be in the hands of an expert. HC Refurbishments helps clients all over London and Surrey to refurbish and install their dream kitchen for an affordable price. Contact us today for a quote.
06 October 2013